Yaron Attar's studio, where he's been working for five years now, is at the far end of Kiryat HaMelacha (Tel Aviv's gallery area). At the center of the well-lit room stands a table piled with oil-on-paper paintings, spread like fans. The studio is filled with sculptures, photographs, and various little, funny, delicate, and dark moments - syntactic tests Yaron conducts, like some occurrences in his video works. Laying things side by side creates the spark igniting the artwork and the studio.
Yaron Attar: Recently I've been going on long weekend visits to Abirim. Some friends live there together, near the border with Lebanon, having escaped there from "the most expensive city in the world." Abirim is a small village surrounded by oak forests and natural shrubland where some surprising archeological sites can be found. I started to appreciate Mediterranean woodlands only after I've once got lost in a thick, intimidating forest in Upstate New York. An oak forest's volume is just lower. It doesn't try to reach a peak. Nevertheless, I'm slowly falling in love with its anti-drama.
Bridge, 2021, oil and pigment on paper, 45X32 cm
Waterman Family, 2016, Oil and pigments on paper, 23X13 cm
Even though traveling north takes time away from work, I've begun to let go of some of the studio's demands. I get fresh new ideas in the mountains, so I've decided to let their air get more involved in my future work. I am reading the book The Fire of Freedom by Papaji, an Indian sage who lived between 1910 and 1997 and taught nondualism. The time in Galilee enables me to deep-dive into this abstract text. With daily walks in the forest and meditations, my creative process is suspended and accelerated simultaneously. I don't make much effort to formulate ideas, and new, beautiful ones emerge in this vacant state.
Revisiting, 2011, oil and pigments on black board, 82x65 cm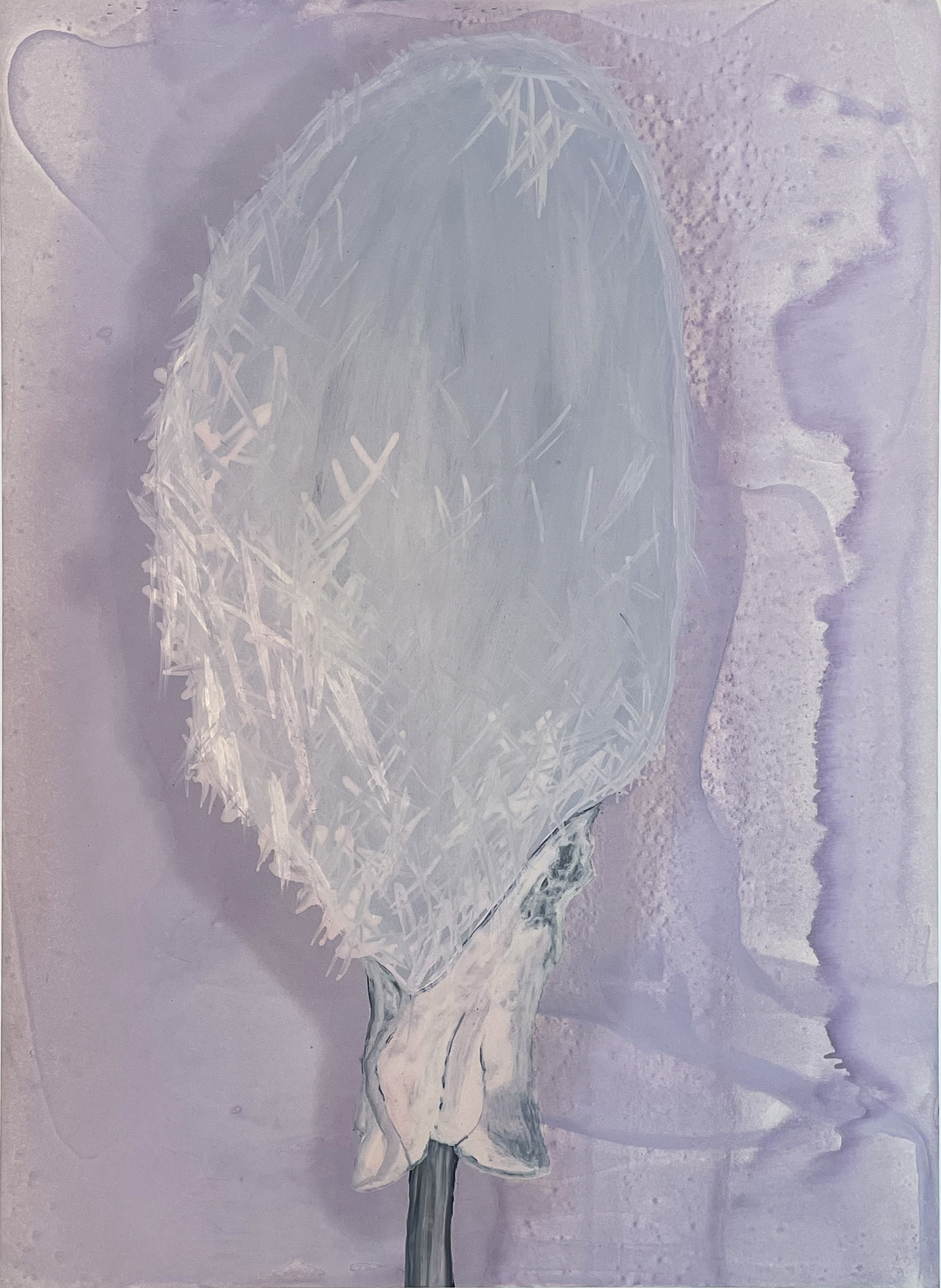 Untitled, 2021, oil and pigments on paper, 67x44 cm
Talya Shalit: Also, your style of painting seems to have changed a lot, becoming more abstract and much brighter. Your tone used to be much darker.
Y.A: 5-6 years ago, Eitan (Ben Moshe - T.S) visited me at the studio. I worked towards a solo exhibition at Hezi Cohen Gallery and thought about different ways to develop my painting. Eitan said to me - "listen - we all know those artists who represent darkness. Ok, I know that you can show us how hard and dark the world can be." But then he pointed to a bright, abstract painting and said - "this we don't have, and the world needs it." It was a significant moment for me. At first, I was skeptical - I wouldn't want to commit to one way of expression or worldview. It wouldn't be honest concerning the overall complexity of human nature. I'm attracted to art and spirituality, but I have desires, anger, and criticism. For a long time, it seemed fitting to mix everything up, reveal the tension between the bodily and the sublime, and create a tempting point where drama and its aftermath meet. The aftermath is a state of mind from which one can break forward. Recently, even though the times are chaotic and threatening, I feel like this aftermath will probably never come; maybe it is the old world's misconception. Something about these times calls me to imagine an exhibition as a whole, a clear and accessible event. Accessibility isn't derived from censorship but from a direct encounter with the audience and its effectiveness. To fully separate my critical, skeptical, and sometimes even neurotic personality from my possibility to bring into the world an artwork that refuses to represent chaos and wickedness and is devoted to a primal existence without a narrative. Without violence or horrible suspense.
Shooter, 2015, oil on paper, 78x49 cm
T.S: A parodic element is often present in your work in a casual, everyday register. Its materiality is not casual at all, though.
Y.A: This is precisely my challenge, to find this thin line. Parody creates distance, but through the material, one can get closer. Working with materials in painting and sculpture radiates to new video ideas; I plan to move from digital photography to 16mm. I want the sound and smell of a film camera as an element with a timeless presence in an exhibition space. Not sure if I told you, but before Covid-19, I took one semester for a Master's degree in filmmaking at Tel Aviv University. I was working on a new production, a short film that I wanted to develop into a feature. In it, I addressed some life-altering events from my adolescence in Afula. I wanted to create a fictional sequence based on memories, with a time-leap to the present - to transition between fiction and reality within the movie. I started to produce the movie's opening scene.
I wanted to frame and compress events that had shaped me as an adolescent, which have all taken place in the 24 hours between the Memorial Day siren and the fireworks of Independence Day. I wanted to use this sensitive period as a background to an encounter on a roof between two youths. They look into the neighboring houses, the camera wanders between their windows - like Hitchcock's 'Rear Window', but in Afula. It amused me. People watch the news, some standing up erect for the siren, and suddenly the boys have an erection too. From there, the plot unfolds. The pandemic halted this project a moment before it was produced. I was happy to dive into the world of storytellers, and I had learned a lot. Still, I wanted to go back to working with materials and time but not on a timeline; values that painting and installation carry well.
Sword Battle, 2021, oil on paper, 100X75 cm
T.S: It seems like different mediums flow into one another in your work. What is the process through which you move in the studio between different realms of thought and action?
Y.A: When I went back to painting, my thought channel switched from the complex film production - with a photographer, producer, locations, actors, etc. – back to the intimacy of painting, to the quiet that I have experienced anyway in the studio during the lockdowns. I was very alone in this silence after my breakup with Vered, completely broken but curious and ready for whatever was about to come. It was important to me to bring the present and the loss into my painting. I started with a fascinating image that Vered had photographed before we'd met in South America. I found it in her album years ago. A 35mm photograph from the early 2000s - a desert sunset glimpsed from behind rocks framing the view in the shape of a torso.
Untitled, 2021, 35 mm photograph by Vered Shilony from 2001
Another image that had fascinated me was of a woman climbing a mountain - the first title of the exhibition at RawArt was "A Woman on a Mountainside." I painted it a few times in various sizes, and as I moved on, the woman's figure merged more and more with the mountain from one painting to the next. I set this series aside for a while; I had trouble with the image's concreteness. The exhibition at the gallery was postponed several times during the first year of the pandemic. It was a good thing because I could go deeper into the work process and find new forms of abstraction. I began to investigate different modes of repetitiveness. After half a year, I made the blue-red triptych - and without noticing, I was back to the image of the mountain, without the climber.
A Woman on a Mountainside, 2020, oil and pigment on paper, 67x44 cm
The Blue Red Series (A), 2021, Oil on Cotton Paper, 104.5x58 cm
T.S: The painting Backseat Travelers, which you had made much earlier, gave the exhibition its title: silver spray paint on a magazine photograph of an elderly couple sitting in the backseat of a large American vehicle.
Y.A: This image has been with me for a long time, quick action in the studio taken a few years earlier. A photo/painting that touched and disrupted the idyllic image of a couple, trying to undermine it. In the process I had gone through with the painting, preparing for the recent RawArt exhibition, this artwork added a timeless dimension to the separation and loss that had preoccupied me. A proposal for the perpetuation of love, a dark yet hopeful image, like lovers who reserve burial plots next to each other. The couple in the backseat becomes a ghost; the silver halo I have added sends them together to the next world.
Backseat Travelers, 2020, spray-paint on magazine photo, 36x50 cm
T.S: Your videos and sculptures and the new ideas and inspirations we've talked about all contain a fine-tuned control system. The paintings seem to be the opposite; they have a certain momentum and suggest a loss of control.
Y.A: I'm very engaged with this subject, the tension between control and its lack. In art, there is this wish to lose control, to gain freedom and release. However, when I work on an installation for 2-3 years and interweave video, photography, and sculpture, I respond to the world in a much more concrete way, refusing to lose control or escape to abstract worlds. I react to the control system we live in with my own one, allowing outbursts, disregarding rules, laughing, creating tension, and equilibrium with works that contain romance and long contemplation. In painting, I like to generate abstraction processes associated with loss of control.I prepare diluted paint with pigments, a little bit of linseed oil, and a lot of turpentine. I build large parts of the painting by spilling the paint. I mostly spill it slowly and calculatedly, yet natural paint drippings create new, unplanned shapes.
No Vacance, 2018, video still from HD video, 7 Min
God, 2019, oil and pigments on paper, 68x45 cm
T.S: The blue shades are very dominant in your work - on a broad scale from glowing to smoky, flexible and fragile, they are either connected, layered, or separated by a different pigment - there's a kind of aesthetical distillation. This palette is very distinct.
Y.A: When I was 20, I watched Luc Besson's movie about freediving, The Big Blue, several times. Soon after, I took a diving course in Eilat and fell in love with the blue of the depths. Around minus 20-30 meters, something miraculous happens: the blue becomes a dark abyss, and it is very tempting to let it swallow you and disappear in it. I also love the connection between shades of blue and silver; it comes from a slightly different place. After mixing it, the silvery pigment behaves like mercury, reacting chemically and bubbling up on the painting's surface. I work with spatulas, usually big ones. Removing a layer, I have worked on for a whole day in an act of releasing control, another attempt to dismantle structures in painting. I want the painted image to look like a living organ and its radiograph simultaneously.
Untitled, 2020, oil and pigments on paper, 67x44 cm
Untitled, 2016, oil and pigments on paper, 66x53 cm