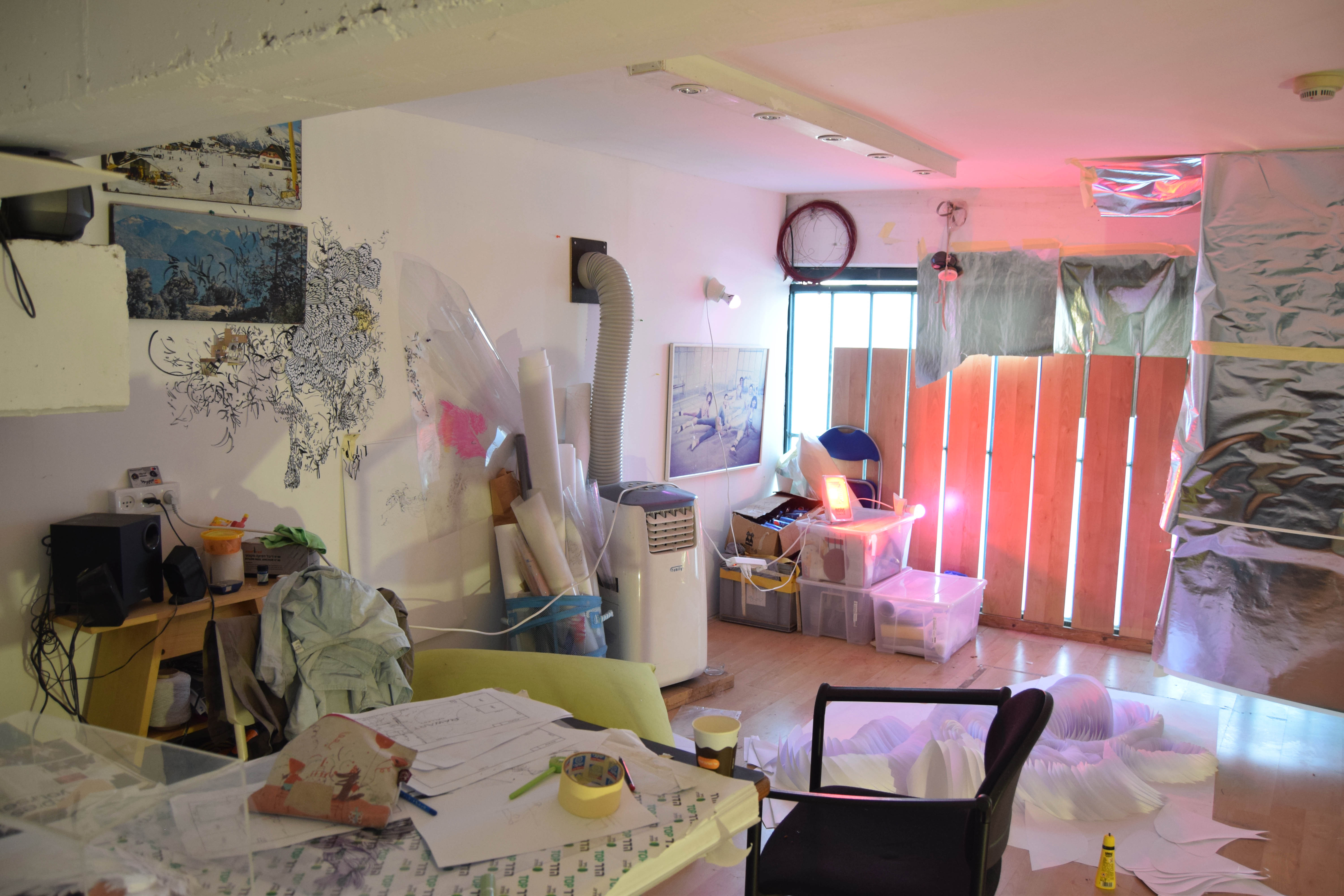 Lali Fruheling's studio, 2018, photo: Maya Bamberger
Maya Bamberger: It turns out your studio is inside a small factory owned by your father...
Lali Fruheling: Yes. And it's my favorite studio ever. It took me a while to let go of the idea of having a studio in Tel Aviv. The first studio I moved into outside of the city was a warehouse in a small village, named Hagor. Which was really tough though very effective. This ugly space actually led to a surprising number of artworks. My dad used that space to store disintegrated airplane parts, and inside all that mess I had my own little makeshift room: a Wild West of insects. It actually looked a lot like one of my web installations, without me intervening. And I'm not really fond of spiders. The insects fell in love with my paper sculptures. Some got stuck in them and couldn't find their way out. Every once in a while I had to search and rescue a cockroach or a centipede that got themselves lost in a maze.
MB: And what is your father's factory producing?
LF: Driving systems for disabled people. So basically I have an entire factory working underneath me – full of machines and equipment I can use to process any material I want. Too bad I have such deep sympathy to low tech.
Lali Fruheling's studio, 2018, photo: Maya Bamberger
MB: What does your work routine here look like?
LF: I'm here twice or three times a week. And when I'm not here, I have a small "emergency studio" at home. Before I had kids I would come to the studio five times a week, and I was totally devoted to studio work. I was working nonstop on the sculptures. My research didn't have a deadline. At some point I would even destroy things that might have had a lot of potential, only because I couldn't stop working on them and changing them. They were over-processed. They became muddy. Today I have less time to work, but that's what makes it better for me – the time gap between the days I encounter the works keeps my perspective fresh. It takes much longer for my eyes to burn out. I retain an expectation to arrive to the studio. I wait all week, counting the days. The studio remains a desired place. I can't imagine happier or a more blissful morning than one spent in my studio.
MB: What does it mean for you to have a studio?
Lali Fruheling's studio, 2018, photo: Maya Bamberger
LF: If I skip going to the studio for a while I become intolerable, anxious, agitated, a terrible nuisance. The studio neutralizes a constant noise I have in my brain.
Lali Fruheling's studio, 2018, photo: Maya Bamberger
MB: Which techniques are you using these days?
LF: It seems like I can't paint anymore, which is sad. But actually, every once in a while I suddenly get an urge to make this realistic, old-school, heavy drawing. When you think about it, drawing is really my home base. It describes everything I make. It's always about drawing, whether I'm asking myself how I can make light move, or color move. I'm always thinking in terms of drawing, more than of installation, even though I paint very randomly. Installation as a mode of perception is also very important, because my works always relate to the space in which they are placed. There's a sentence a teacher of mine, the artist Eli Petel, once told me that I think is very true: on the one hand, I am fanatically patient, and on the other, I can't stay still for long. I can sit down and make extremely sisyphic works for months, and that will make me happy and content, but then what I enjoy the most is the jumps and the motions the installation and the string-work require.
Lali Fruheling's studio, 2018, photo: Maya Bamberger
MB: Sounds like meditating to me, right?
LF: That too. But the purpose is not only to create mental or energetic peace. I just really really want to work with these materials and see how I can develop them further, or stretch them further. What's there inside this thing that I don't know yet and which I could refine even more? What does this object need? Where does it want to go and how can I take it there?
These days, I am mesmerized by strings. When I work on a string installation I look completely out of my mind. On the one hand, the movement has a Jackson Pollock-like style, and on the other, it looks like I'm stretching a skeleton. I have recently discovered that I also do some kind of twerking. It's quite a wacky ritual.
Then, there's the paper works, which are so boring to make that I have to have some trash TV serials playing in the background.
Lali Fruheling's studio, 2018, photo: Maya Bamberger
MB: What is the oldest artwork you have at the studio?
Lali Fruheling's studio, 2018, photo: Maya Bamberger
LF: The earliest one is "Hadad." Evetyhing else is tests for new works. I'm never sure where everything that's in the studio is going and how it would take shape. For example, this cheerleader pompom sculpture progressed exactly as I imagined it, and that's why it's problematic. It's crucial for me to be in a state of uncertainty. The object is growing and I'm helping it grow. Usually, when the execution is too close or similar to the vision, I'm less excited by the work or content with it.
Lali Fruheling's studio, 2018, photo: Maya Bamberger
MB: And what is the most recent artwork?
LF: The room I am constructing for a show in September. I want it to be very chaotic and shattered. So much so that you couldn't tell if this room is inhabited by a very messy person, or if something horrible has happened in it.
MB: What are your plans for after I leave here?
LF: Mmmmm… I'm going to go pick up my kids from school.
22.02.2018